This time last year, on a whirlwind trip to the states, I flew out to San Francisco to surprise one of my favorite people. For the previous three years or so he'd been conceptualizing a coffee company that would emphasize relationships from the growing of the beans to the presentation of the beverage. And just the week before, Saint Frank opened its doors for the first time.
I'd wanted to make it out to San Francisco since they'd moved there from Texas several years before, but our brief visits stateside never allowed it. But here was this split-second of a chance, so I took it. His wife, Lauren, and I conspired behind Kevin's back, and I rolled in on a late-October Thursday to congratulate my friend.
The year since has been an amazing one for Saint Frank. They've been written up in everything from DWELL to Bon Appetit and repeatedly named in lists of the top coffee shops in the US. So in celebration of this amazing year, I'm going to share why else I love Saint Frank (besides my love for its founder) and (finally) post these photos that have been dying to claw their way out of my computer all year.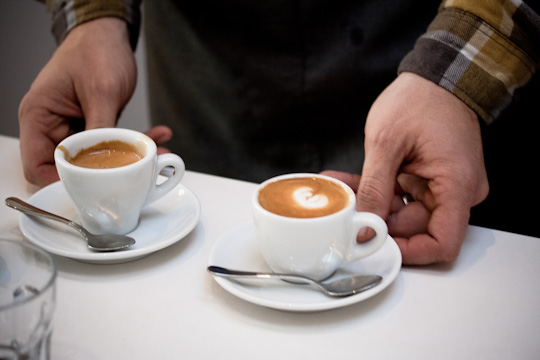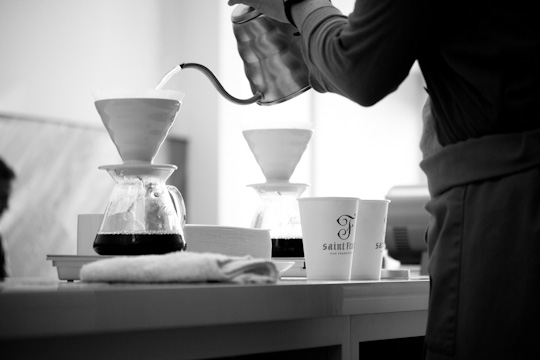 The first day, I sat at a far table along the main bench and watched the steady stream of patrons file through. Some were there to work, some to meet a friend, but all were commenting to one another about the coffee, whether they were comparing it to intelligentsia or rightfully oozing commendations for the alfajores (a to-die-for dulce de leche shortbread sandwich cookie).
If I had to choose one coffee shop for the rest of my life it'd be Saint Frank. Because I could definitely live off their pastries and cappuccino for a while. Until I die of diabetes of course. But it'd be a lovely go until then.
But Saint Frank's excellence is not the only reason to love them. The best thing about Saint Frank is that they're up to great good.
From bean to cup they emphasize relationships, connection, simplicity, and service. In short, they value humanity. They look at everything from the neighborhood to the coffee industry and say, "What could be more lovely here? How can we bring that about?" And not just for the sake of being awesome, but for the sake of the people and communities they serve.
Read more about their story and their farmers, if you'd like. And next time you're in San Francisco, visit them at their Russian Hill location (on Polk street next to Crunch Fitness). The cappuccino will change your life. And tell Kevin hello for me, will you?
P.S. Isn't their natural light just the best?