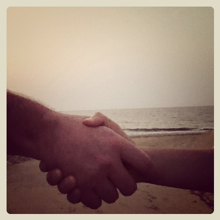 As with most things in Year of the Grown-Up, I discovered my ignorance about introductions one day when I was giving one and realized I wasn't quite sure I was doing it properly.
These days In the U.S., nearly anything goes with introductions in a casual environment. As long as you actually introduce people who you aren't sure know each other, and say at least one of their names (two is ideal, but if you remember one, hey – fohgettaboutit – they will usually introduce themselves to the other), you have been polite in the general sense.
But if you are in a more formal environment, say, with current or prospective colleagues or at a function with many in-the-know people, being able to provide a more formal introduction with comfort and ease will let you feel more confident and not draw unwanted attention (for being ignorant of the "appropriate" practice).
A Quick Disclaimer…
About a month ago I began consulting etiquette gurus (Emily Post, Leticia Baldridge) on the art of proper introductions. I can't say that I find the specifics intuitive based on today's norms, and some of the finer details are downright dizzying. But I think we can use the 80/20 rule here. With 20% of the effort, you can master 80% of the craft. So that's what we're going for today. The 20% that, when done correctly, will make it seem you are in-the-know introductions-wise. (If you'd like a more extensive treatment, and a funnier one, puh-lease read this one from Karen at art of doing stuff. I've read it four times and it still makes me laugh.)
Onward!
How To Properly Introduce People
I'm trying to make this as simple and straight-forward as possible. So I've boiled it down to this (again, there is so much more to say, but 80/20 people. Eighty. Twenty.)
What to know:
There is a hierarchy of honor when introducing people.
What to do:
Address the person of higher honor by name, and "present" the other person to them.
The Hierarchy
There are two hierarchies in play, one for business situations and one for social situations. In the old days there was only one, but I guess changes in women's roles and career norms in general necessitated the adjustment. So these days we have two.
If you can only be troubled to remember one of the two, I'd go with the business one. Most people won't fault you for using it, and formal business situations are more common than formal social situations for most of us (seems like many of our formal social situations are often related to employment anyway). But really, once you learn the business one, the social one is a snap. The only thing you actually have to remember is to use it.
The Business Hierarchy:
Job title (the boss is boss)
Gender (ladies first)
Age (respect your elders)
The Social Hierarchy:
Gender
Age
Did you catch that? The social hierarchy is exactly the same as the business hierarchy, you just ignore the part that pertains to business. 
The Presenting
First, assess who takes the place of honor.
For a  business situation, whoever is highest up the corporate ladder takes the place of honor. If the parties are of the same position, the female takes the place of honor. If they are of same rank and both female, the elder takes the place of honor.
For Social Situations do the same thing, just ignore their career bits. If both parties are of the same gender and same age, just go with it. You can give your family member or close friend the place of honor if you want, but whatever is fine.
A Very Important Note:
In social introductions, the traditional hierarchy is based on gender and age. Exceptions are reserved for Presidents, Kings, and other supreme ruler sorts. So if you meet the President, the Queen, the Prime Minister, the Sheikh, etc., all bets are off. They take the place of honor. Every. Time. (If this was pertinent information for you, brah. vo.)
Then, make the introduction.
1) Say the name of the person of honor (and look at them)
2) Say one of the following as you turn to your presentee (pick one that feels like you and is situation appropriate):
"This is…" (easiest and nearly always acceptable)
"I'd like you to meet…" (a little dressed up but still very easy)
"Have you met…" (nice if you think they may already know each other)
"I'd like to present…" (very formal)
Tip: Stay away from using the word "introduce". There are some very subtle technicalities to it (again, check out Karen's article), and by using it you risk botching the introduction. If the situation is formal enough to require "introduce", use "present" instead and you're guaranteed to get it right.
If you've seen the movie Hugo, there's a scene you can use to help you remember. Isabelle introduces Hugo to the Monsieur Labisse (the Book Shop owner)Â and she does it exactly right:
Good morning, Monsieur Labisse…Â May I present to you, Monsieur Hugo Cabret.
Using that, we can remember to address the honored person first (by name), and follow it up with our choice of wording. In this case, "may I present to you…"
Advanced Moves
Use first and last names as often as possible (again, Isabelle gets it right).
In conversational atmospheres, mention something about each party that you think the other will find interesting. Do this after you have completed the introduction, starting again with the person of honor. For instance, "Mom, this is my friend Kate. (Elders first.) Kate, my mom loves to cruise and recently took her first Transatlantic voyage. (Told something about mom first.) Mom, Kate cruised the Mediterranean last year and posted all about it on her blog. Now they have something to talk about. Especially great if you don't want to carry the conversation yourself.
Recap and Take-aways (the 20%)
Give an everyday introduction however you want, but learn the proper protocol for formal situations.
Look at and say the name of the person in the place of honor first, then present the other party to them using "this is…", "I'd like you to meet…", "have you met…", etc. (Avoid using the word "introduce")
Use full names as often as possible and offer interesting information about the parties you're introducing.
And that's it. Let me know how it goes!
(Get more etiquette and other How-Tos for grown-ups… Subscribe to our feed or follow us on Twitter!)