(or… How To Send Friendlier and More Helpful Emails Using Voice Messages)
Have you ever spent 10 minutes or more reworking an email? Maybe you were trying to explain something in detail or wanted to make sure your tone had a good-as-possible chance at coming across as intended? Yeah, me too.
But a few months ago it got out of hand. The Dude and I were considering buying a house with a friend (it didn't work out because of life uncertainties on our end), and I needed to communicate lots of involved thoughts and perspectives.
Being 12 hours apart made it challenging to Skype, and I quickly discovered that email was not a great vehicle for communicating subtleties. Further, a few matters at hand (like money) called for a degree of sensitivity that is better conveyed with a degree of non-verbals.
I had to come up with an option besides text email.
So I decided to send a "voicemail" instead. I began recording messages (sometimes looooong ones) when I wanted to discuss more involved things or wanted to make sure I was delivering my message with the intended emotion. It. Was. Perfect.
My emails began requiring much less time and were more solidly and sensitively communicated. And then I began getting voicemails back. And I loved it! Things were communicated clearly, easily, and efficiently. But the crowning perk was something I never expected: hearing the other persons voice was fun!
Since then I've sent email voice messages to a lot of people for many things; to send elaborate travel options/explanations to a friend (that would have taken me FOREVER to type), to explain complicated instructions, and to send friendlier thinking-of-yous and more personal thank yous for small gestures.
I've had several of these people ask me how I did it, so I thought I'd share it with you. Give it a try and let me know what you think!
How To Send a Voice Message
as an Email
Sending a voice email is simple. I mean super simple.
Create a voice recording.
Attach it in an email.
I imagine if you are reading this post, you have enough command of your computer to execute #2. What might be slightly less obvious is how to create the voice recording. Sooo…
How To Create a Voice Recording
I'm a Mac user, so my detailed instructions here are for people using a Mac product, whether a desktop, laptop, iPad, or iPhone.
On the iPhone
My favorite way to create and send voice emails is on the iPhone. The pre-installed "Voice Memos" app allows you to record a memo (a message) and send as an email directly from the app.
Here's the step by step:
Open the app and tap the red circle to record.
Tap the button with 3 lines on the right to see your list of memos
Highlight your memo and tap the blue "Share" button
Tap Email
Complete the email subject line and recipient, and add a short note as I describe below in "A Few Final Tips"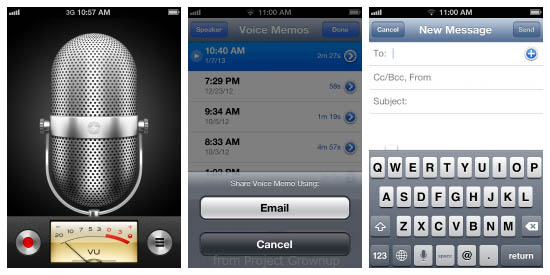 On the iPad
Before writing this post, I apparently never had a reason to create a voice memo for the iPad. It turns out I didn't have a voice memo app on my iPad, and finding one was a punishing task. My usual approach of searching Google for "Best [voice record] iPad apps" left little to go on, the one promising lead, Gizmodo, leaving me more than a little disappointed.
After sampling a few different recorders, I'm settling on the 99-cent Voice Recorder for iPad app. It does just what I need without clunky visuals and very closely mimics the iPhone app's icon and workflow. For sending voice emails, it seems to be perfect, and has a few extra features to boot.
Here's how to record (and send) a voice email using Voice Recorder for iPad:
Open the app and tap the red circle to record.
Tap the "Recordings" button on the upper left to see your list of memos
Highlight your memo and tap the blue "Share" button
Tap Email
Complete the email subject line and recipient, and add a short note as I describe below in "A Few Final Tips"
On the Desktop or Laptop
Because I do most of my emailing on the laptop, I wanted to create voice recordings there, as well. But I refused to get into Garage Band to do it, and also didn't want to fork out any cash before I was certain how much I'd use another app.
Enter eXtra Voice Recorder. The free (Lite) version does the trick (and is the version used for the screencast below), but the paid version lets you send the recording directly to email and doesn't show the "do you want to upgrade" screen when launched.
If you end up using it a lot I'd suggest the paid version (since it omits a step and supports the developer), otherwise the Lite version should serve you just fine. (Note: I've upgraded… but wanted to show you the free version since you'll likely begin with that.)
Here's a 2-minute screencast on how to use eXtra Voice Recorder Lite to create a voice recording:

And finally…
Send Your Voice Recording as an Email attachment.
This is the easy part. From your mobile device or paid version of eXtra Voice Recorder, you can share by email directly from the app; if you've recorded an mp3, just create a new email and attach the mp3.
A Few Final Tips:
Add an introductory sentence to your email so the recipient doesn't suspect it's spam.
Tell the length of the message so the recipient can decide if they have time to listen right then.
Speak close to the mic on your device/computer or use headphones with a mic. (I use these and love them.)
Wrapping It Up
I wouldn't use voice emails to send information that needs to be searchable or referred back to in the future. But it's perfect when you want to give a lot of details but don't want to type it all (in text email) out or get caught up in a long conversation (on a phone call).
So how about it… think you'll give the voice email a try?