Yes I know. It's nearly the second week of April. But I'm going to be completely self-indulgent and share my March favorites, even if I'm a little late with it.
Homemade Cake Doughnuts
Stumbling upon this cookbook from Seattle's Top Pot Doughnuts may prove life-changing. Their great recipes and detailed instructions made for a very successful first foray into doughnutting. And it won't be the last.
You want these, don't you?
Tara Stiles, This Is Yoga
I do a good bit of yoga at home. This is because I am cheap, and also because I can be done with a home workout in the time it would take me to arrive at the gym. Did I mention I'm a bit of a homebody?
In selecting a yoga DVD, there are 3 things I look for:
A variety of routines of varying lengths
Minimal cheese (or as is more often in the case with yoga, minimal breathy-speak)
No inner goddess talk. (Which is my personal way of saying, I-don't-wish-to-bow-to-myself-thank-you-very-much.)
I recently discovered This Is Yoga by Tara Stiles, which meets all of my criteria and has a video encyclopedia of the poses explaining exactly how your body should be positioned for each one. Can someone say genius?
I spent a good amount of time with Tara last month. Love love love-ing This Is Yoga. Can't recommend it highly enough.
Irish Seven Course Meal
I'm a compulsive reader. It's weird, but also quite handy. (Like when obsessive sign-reading helps you realize you can forgo the 50-person visa line for the 5-person visa line next to it. Score.)
The other day over-reading produced me with this gem from the menu at a local pub. I'd never heard of this before and it cracked me up: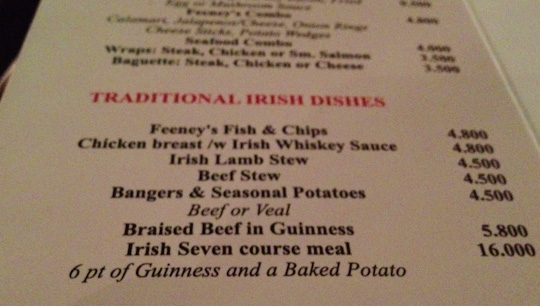 Podcasts and Other Audio Content
Why did it never occur to me to listen to podcasts while I clean? Without a dishwasher, I spend a good chunk of time each week standing in front of the sink, and it's a perfect opportunity to learn a thing or two while I stare mindlessly at stainless and bubbles.
Because of my entrepreneurial bend, I've primarily been listening to businessy podcasts. My two favorites lately have been the Social Triggers Insider and Michael Hyatt's This Is Your Life.
The Dude Discovered Emoji
How does this get to be a March favorite, you ask? Because immediately after discovering emoji (which took him a very long time), he immediately began crafting complete scenes with them and creating his own emoji-slang. He's always spoken "jive," and now jive has gone icon. Here are a few of my faves.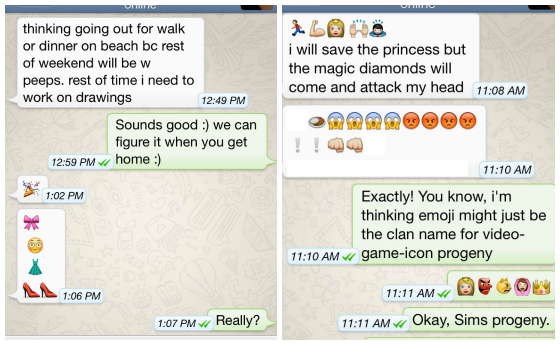 Translation notes: the first image references date night, the second begins with a translation of his most recent emoji series, moves to a commentary about particularly loud chewer, and ends with my most recent thought on our continual question "why are these the emoji we ended up with?"
What about you?
What things captured you in March?