I'm guessing you didn't grow up mixing fancy cocktails. Actually, I kind of hope you didn't grow up mixing cocktails in general. And while not all grownups drink (I very much respect the choice not to), cocktails are still a permanent fixture on the adult-world landscape.
I was in my thirties before I really encountered the concept of a cocktail. A mixed drink? Sure. But the idea of creating drinks the way one creates food… with attention to detail and balance and taste… I just missed it. This is probably because I am cheap.
And then one day some dear friends bought my husband a drink that would change this forever. Something not cheap. Something spicy with the aroma of red bell pepper. Faced with the reality of something sounding so suspect and tasting so divine, I was converted.
And now I'm slowly learning. I'm (still) too cheap to order drinks out very often, so I mainly research online and experiment at home. But earlier this year I splurged on an unfamiliar cocktail at a restaurant known for being fabulous in this department. And fell in love with the sultry, sugary freshness of the Mint Julep.
I came home and researched it, and, sweet serendipity, it turns out our lovely Mint Julep is fabulously easy to make.
There are complicated versions out there, for sure. I know, because I tried a few. I'm even going to try a few more, because that's how much I love her. That will have to wait, however, because as each drink calls for four ounces of bourbon, I drained the bottle of Jim Beam working up this little post for you.
When, with great incredulity, I told the dude that there was a half cup of bourbon in each drink he replied, "That's what I love about the SOUTH. Grandma drinking MInt Juleps on the front porch."
Exactly.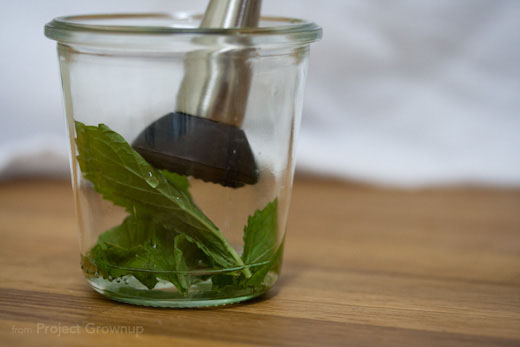 Making Your Own Mint Julep
The Mint Julep is made with mint, bourbon, and some form of sugar.
Of course there's always the trick of getting sugar to dissolve in cold beverages, which is why most recipes call for simple syrup. But then some recipes start calling for mint-infused syrup, or mint-infused bourbon, and that can get a little more time-consuming. I've yet to try the mint-infused syrup, but I tried the infused bourbon business and it was really tasty. In fact, it would be my preferred way to make Mint Juleps for a crowd. But that's another post.
Today we're sticking with the simple Mint Julep, the one you can make for just a few people any night of the week. I do recommend scaling it down a bit though with the bourbon. Granny might be able to handle four ounces a pop, but some of us should take it easy.
On a side note, one of the best things (besides the price tag) about making drinks at home is that you can make them exactly how you want to. You'll rarely meet a better bartender than yourself for nailing the drink exactly to your own taste every time.

Also, you'll make friends.
Here We Go
First, gather your ingredients and instruments. It will make the process much more fun if you have everything at the ready.
Ingredients:
Fresh Mint (about 10 leaves and one sprig per cocktail)
Bourbon (2-4 oz per cocktail. I use Jim Beam because that's what we can get and it's plenty tasty. I'm pretty sure Maker's Mark would blow my Julep-lovin' mind. Let me know if you discover a favorite.)
Simple Syrup (<1tbsp. per cocktail)
Ice (lots. crushed or banged up a bit is nice)
Instruments & Other:
Glasses (Mint Juleps are traditionally served in chilled stainless cups like this one, but just use the best-looking thing you've got. It should hold 8-10 ounces.
Something to muddle with (see step 2 below)
Measuring spoons and a jigger or measuring cup
Straws, if you have some.
A Quick Word About Simple Syrup…
If you've never made simple syrup before, it's so easy it doesn't deserve its relatively complicated name. Just throw a cup of water and a cup of sugar in a small saucepan over medium-ish heat. Stir occasionally as the sugar completely dissolves, and then let it cool. Keep the leftovers in the fridge and use in any beverage – hot or cold – that could use a bit of sweetening. (Iced coffee and fresh limeade come to mind.)
Just in case this doesn't already seem simple enough, I've provided a handy visual reference of the main steps: Muddle, Measure, Prep glasses, Pour.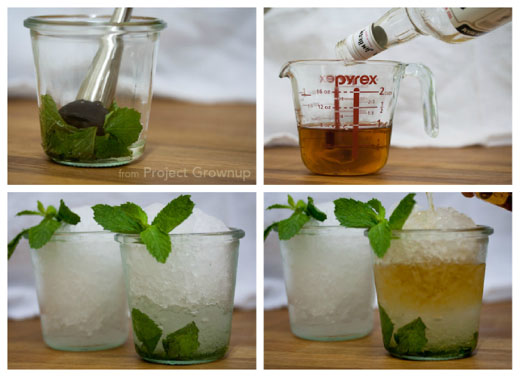 While that is a simple way to remember it once you've had some practice, until then you may want more detailed instructions.
Prep your ice, mint garnish, and straws.

The crushed ice doesn't have to be fancy. You can bust up some regular ice cubes with a rolling pin and use that instead. Or you can use regular ice.
Set aside your larger and prettier mint sprigs to be used as the garnish.
If you have straws, cut them to be a little shorter. They should stick up out of the glass about an inch or two over the ice. Using the straw this way will put your nose close to the fresh mint sprig when you're sipping the drink, which is part of the whole experience. That being said, I never have straws on hand.

Muddle 10 or so mint leaves with 1 tsp – 1 tbsp of simple syrup in each glass. Use less syrup if you'll be using less bourbon. And go easy. You can always add more.
"Muddle" is just a fancy word for press around a little bit. If you don't have a proper muddler or bar spoon, just use the the backside of a small spoon or the blunt end of a wooden one. All you're doing is annoying the mint into giving up some of its mesmerizing oil.
Prep your glasses. The most important thing here is that you end up with a mint sprig perched atop the ice with the straw (if using) nearby.
Fill the glass (on top of your syrup and mint) about 3/4 full with ice. Then add the mint sprig and straw, and then pack in some more ice to hold it all in place. The traditional way is to round a snowball of crushed ice out of the top of the drink like a snow cone.
Once your glass is all prepped and purty, add between 2 and 4 ounces of bourbon. Two ounces for junior, four ounces for granny. I have no children and get to decide on the fly. You can also sprinkle some powdered sugar on top if you have it handy.
Ta-da!
Now. Hang up your car keys and go sit on the porch. If you have to use the neighbors porch, be sure to take along an extra Julep.
Have you tried the Mint Julep? Will you?