Does finding a particular spice in your spice cabinet feel like trying to find a lone daisy in a cornfield? If so, today's tip is for you.
I long wrestled an unruly spice cabinet, usually something eye-level and near the stove, regularly losing my real-life game of Where's Waldo and bowling down bottles in the process.
Then came a day when a cabinet near the stove was no longer an option. And, surprise surprise, a simpler option presented itself. I'm pretty sure the idea occurred to me because somewhere in the distant past (before Pinterest… gasp!) I saw this somewhere online. But as I regularly as my milk-allergy-ridden friend of 10+ years if she'd like some ice cream, you can bet I don't remember if or where I might have seen it.
So I'm just showing you pics of my own spices, sharing how to do it, and telling you why I love the new way so much better.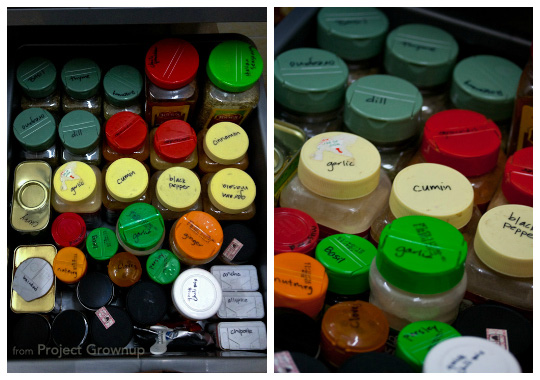 The Solution: Using a bin or basket and lid-labeling spices
Your bin or basket be as simple or dramatic as you'd like. Are you addicted to your label maker? Perfect. Own a Sharpie? Also perfect.
Now stay with me 'cause here's the complicated part: Write the names of the spices (or some abbreviation that you'll recognize) on the top of the lid; and find a basket or drawer of suitable size for your spices. Then, put spices in drawer or bin.
Okay, I lied. Not complicated.
But now, rather than having to shuffle the bottles around every time you need one, you can slide out your bin or drawer, get what you need, and slide it back. My bin is currently on a low shelf, but in the past it has been in cabinets both high and low depending on what space I had available.
Another thing I don't miss? Coming home from the grocery store with a second bottle of ground cloves because I couldn't see that I already had one.
…and you?…
Is your spice cabinet a bliss or a beast? Any spice-storing methods you personally love?