Is there anything afternoon coffee can't cure? I doubt it. And this beaut is ready in 3 and 3.
(Three ingredients and three minutes. I mean, how often do you get the opportunity to reference defunct dating shows?)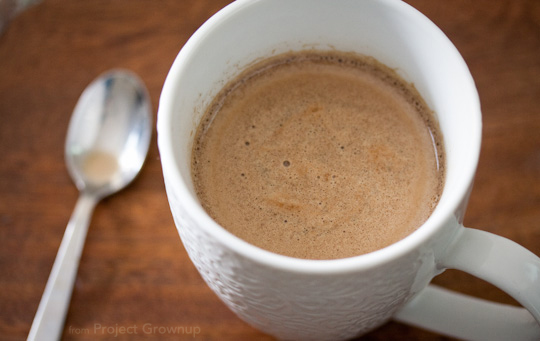 Back to business. The Cheater Latte is exactly what it sounds like. It tastes like a latte (and with minimal experimentation begins to taste like a really good latte), but takes a fifth of the effort. What's not to love?
Here's the quick 3-step process for making your own. I'm giving you the technique, just keep tasting and adjusting until you find the perfect "recipe" for your taste. I never measure mine. Ever. So I would have no idea what measurements to give you, anyway.
Try it out this week and let me know what you think!
How to Make a Cheater Latte
Heat a cup of milk in the microwave. I often heat mine in a glass measuring cup and then pour it into the mug. Sure it's an extra step, but it solves the oops-I-let-the-milk-heat-too-long-and-now-it-has-a-film-on-top problem. (You can also do this on the stove, but not in 3 minutes.)
Add instant coffee or espresso. More for a bigger jolt and richer taste, less for the opposite. You'll see I use VIA Decaf so I get the taste without the jolt.
Stir in some flavored syrup. I make my own vanilla syrup by dissolving 1.5 cups of sugar into a cup of water in a small saucepan over low heat, and then adding about a teaspoon of vanilla after removing the pan from the flame. I make other flavors, too, but that's for another day.
And that's it. Drink 'er up and think of me. I'll be drinking mine and thinking of some place cold enough to warrant a warm drink every afternoon.
My lovely M-I-L is coming to visit next week, so it remains to be seen whether regular posting will return next week or the week after. In preparing for her arrival, I've realized that though I love experimenting in the kitchen, I lack a repertoire of quick, crowd-pleasing yums to prepare after a day of adventure. I've cried for help on the Facebook Page;Â  I'd love to hear your go-to guest foods if you can spare a sec! (And thanks in advance ;-))