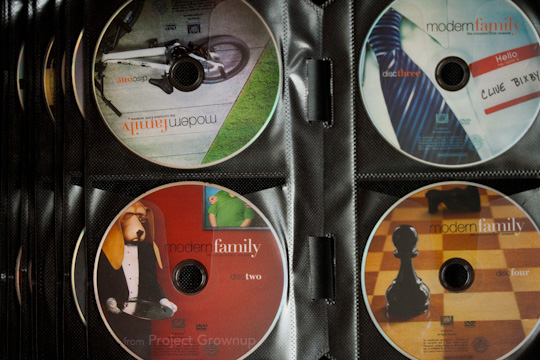 I seem to always have random things I want to share, so this is me finding a way to share some high geekery with you. And yes, you can make fun of me.
More often than I'd like to admit, we end up playing duck-duck-goose with our DVDs at the exact moment when we really want to let the brain-dead-ing begin. I recently decided enough was enough and came up with a way to avoid it.
You know, I'm all about sophistication around here.
Before you start the series, turn the discs where all the titles are right-side up.
When you watch the final episode on a disc and you're putting that disc back, put the finished disc in with the title upside-down.
Next time you go to watch an episode, the first disc that is right-side-up is the one you want.
Ta-da!
Now, I can't help but ask… are the Dude and I the only ones still watching TV on discs? We kind of have to because our internet is so fickle, but I tend to like DVDs anyway because they're often cheaper than their digital siblings. But nearly everyone I talk to these days only streams. Well, that or DVR. Man I miss DVR.
…you?…
Do you still watch TV on DVD (or Blu-ray)? Is there something out there besides streaming and DVR that I need to know about?