Wow. It's been quiet around here for quite some time. I've alluded in (my few) recent posts that there are changes afoot in my world, and I can finally unveil the one that has been consuming my waking hours for these past 6 weeks. Huzzah!
"Serious Creatures" is a web store I've been creating that uses the Dude's illustrations in fun ways for parents and kids. Currently this is expressed in "Creature Card Printables," which have a hand-illustration and room to write a short note (or to/from or whatever) on the same side of the card. We have a lot more ideas up our sleeves for the future, but one. thing. at. a time.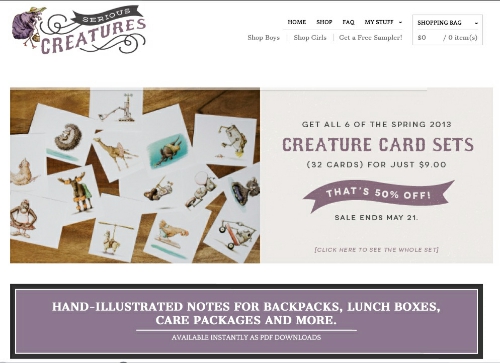 Last year a friend of ours asked the Dude if he could create cards for her that she could use for the notes she puts in her kids lunch boxes, and since then we've been working on making it a reality that could be shared with more families than just hers. The Dude LOVES to make people happy with his illustrations, and the way kids respond to them is just magical. So being able to create something that can be reasonably priced for everyday use and (hopefully) incite lots of joy was a perfect fit for him.
We've been working on putting the business idea together since last summer, but the website has just come together in these past few weeks. And since I'm not a web designer, or developer, or whatever it is we say when we use a WordPress template and make it to enough good things to get you by, it was all-consuming.
And of course no project is complete without that moment near the end where you're so excited and ready to go and proud of all the problem-solving you've done and ready to share it with the world and you discover… your payment solution isn't working.
Like you, that is absolutely my favorite part.
Now…
I'm nine parts elated and nine parts exhausted. Or however that works. And my days are entirely disoriented now that they aren't filled with putting out fires and writing copy and reading incomprehensible Paypal IT technical documents. So I'm pounding coffee and Snickers and getting back to blogging.
One of the most surprising things about putting this site live is the sense of accomplishment that has come along with it. Do you ever wake up one day and realize you've actually learned something that you didn't know you were learning? Or find yourself proficient at something you didn't used to be? It's felt like that. And I kind of like it.
If you have a sec, check out the new store and let me know what you think. You can also get a free Sampler Printable, or take advantage of the half-off sale (ends Tuesday, May 21).
But what about you?
What is it that you've been actively or passively learning over the past few years that you're now proficient in? Parenting? A new job or position? Keeping a regular routine? I suspect for all of us there is something we're now capable of that we once weren't, and we don't always see it happening. But it's worth celebrating, no?